"How to Know Your Ultimate Life's Purpose… Your Deeper Destiny"
Is this how you feel?
Let's look at some fears and concerns so that you can powerfully choose your dream life:
"I don't know what to do and what if I do the wrong thing?!"
• Living your life without having explored and experienced who you really are and the life you know is available to you.
• That your everyday life will be consumed by mind chatter and mundane routine. You won't ever be able to explore your juice, creativity, what lights you up.
• Living by default rather than being your power to choose the life YOU desire to live.
• Not expressing yourself and standing in your power.
• Not living from who you really are, ending up old and unfulfilled-you know in her heart there's more.
• You are not living your life's purpose, so you feel that something's missing from your life and you are tired of searching for it… the energy of seeking drives you and you don't actually feel much peace in your life. You know that you have potential, and you're supposed to live a better life and be happier but because you feel disconnected cannot receive your highest guidance and it hurts.
• You feel stuck and you know that there is more to life than you are experiencing. You know that you can have a life that fulfills you, where you can actually feel peace and joy, enjoy being here.
How does it show up in your life?
It can affect all areas of your life, relationships, health, finances…
• It shows up in your life, through your Wellbeing, as feeling disconnected and unfulfilled.
• This problem also affects your business, your work expression and of course, your purpose. You feel boxed in as if you're not expressing yourself in the way you want to; your true power, your creativity… your Being.
• The result of this is that you don't fully follow/trust your intuitive guidance and so, you aren't living your Life's Purpose.
"I have devoted my life to this; I know what it's like to feel lost and to constantly question for years, "What's my path, am I on the right path?" It was so frustrating and exhausting! I know that longing and sadness you are feeling, as if you are separated from your true love, from your Source. You can feel the love but it seems out of reach so you end up, unconsciously, looking outside of yourself for fulfilment and satisfaction…"
The Benefits of this Course can be life-long; It can help you to:
• Connect with and receive Light-Guidance from your higher self and your guides, from your Source, so that you can know the breath-taking power of your intuition to transform your life.
• Discover your Life's Purpose and live your life from who you really are, from Oneness.
• You can let go of struggle and allow yourself to shine and to live the life you know that you were born to live.
• To realize your Deeper Destiny, fundamentally, you fulfill the reason you came here.
If you're ready to discover your Life's Purpose…
To let go of struggle; ready to step into your power and your truth, ready to experience and express who you REALLY are so that you can feel connected, fulfilled, creative, have fun… then click the yellow button below now.
It's time my friend. The time has come for you to live your purpose and your Deeper Destiny. You can't thrive when you're only focused on how you were conditioned, being responsible, making everyone else happy… It's your time now.
Investment is €97 (reduced from €247)
What you'll learn in this Course:
A wonderfully effective exercise to discover your Life's Purpose (and understand why you're not living it now).
A tool that enables you to connect with Divine Guidance – with Source, so that you can receive guidance with any challenges you have.
A beautifully effective release practice that brings you such clarity and lightness that has you feeling at one with yourself. You shift from "Is this all there is? I know there's more…" to living the life you were born to live.
How to identify your Intuition and what the difference is between your Intuition and that egoic voice in your head.
What the two different types of Life's Purpose are.
What you are really looking for and how to experience it so that you fulfill the reason you came here; what your Deeper Destiny is and how to live it. This is what you've been searching for… it is your Ultimate Fulfillment.
A simple tool for letting go of struggle – of pushing through your life so that you can experience flow.
How to experience who you really are whenever you want to.
How to access your creativity.
… and much more!
Here's what we'll cover in this Video Course:
Module 1 Introduction:

• Why listen to me?
• Who is this information for?
• What the problem is, how it affects you AND what the solution is.

Module 2
• The two types of Life's Purpose; • How to find your Life's Purpose and • What your Ultimate Life's Purpose is.
Module 3
• The Superpower of Your Intuition. • How to identify your intuition. • How to receive intuitive guidance to support you and help you with any questions around your Life's Purpose and any situation you have in your life!
Module 4
• Revealing what can block you from receiving the intuitive guidance you need to take the next best step in your life AND • A simple tool you can use to solve this problem.
Module 5
• A journey of discovery to find your Life's Purpose. Finding your "WHY". Gain clarity on your Life's Grand Vision.
Module 6
• A profound tool that enables you to connect with Divine guidance and discover your Life's Purpose so that you can create a life aligned with your soul purpose!

Module 7
• Becoming aware of what you're REALLY searching for; the ultimate fulfillment; Your Deeper Destiny.
 
Plus Workbook and Bonuses.
My desire is that you shift from doing to being, from that contracted state of struggle to the expanded reality of beingness, which is your true state. This Course is so valuable… it's about how to live a happy and fulfilled life! You need never feel lonely when you know that you are one with your true self and with Divine Love; when you know that it is always available for you to connect with and receive guidance from regarding your everyday life and your life's purpose.

I trust you're here for a reason and my desire for you is that you live your Deeper Destiny, the life and way of being that you deserve.
I've been there and I'm out the other side. I can save you years of frustration, longing, the pain of searching for your purpose and not finding it…
The time has come. If you're ready to finally discover your Life's Purpose so that you can feel connected, fulfilled, creative, have fun… if you're ready to end the search and come home to yourself, then trust your intuition! I invite you to click the PayPal Button below now and you're on your way to start!

It's a win-win!
All profits from the sales of this Course go towards providing a home and caring for forgotten horses. Your purchase will fund Free to Be Horse Sanctuary.
About Marianne McGuire
Marianne McGuire is the creator of Let Go and Know®; How to Let Go of Struggle and Know Who You Really Are.
She guides (mainly) women to discover who they really are; their Deeper Destiny™ by connecting to and living from the Light; from Awareness, so that they can stand in their own power and express their truth.
Marianne's work comes from a direct experience of "being" Awareness; a connected state of Oneness with all. She had this profound spiritual experience when she was six years of age, when she received certain fundamental universal truths about reality and who we really are. The essence of this experience; this pure "information" is facilitating her mission; to nudge you into remembrance of the magnificence of who you really are, so that you can live from freedom, ease, peace, and joy… being yourself, living the life you were born to live!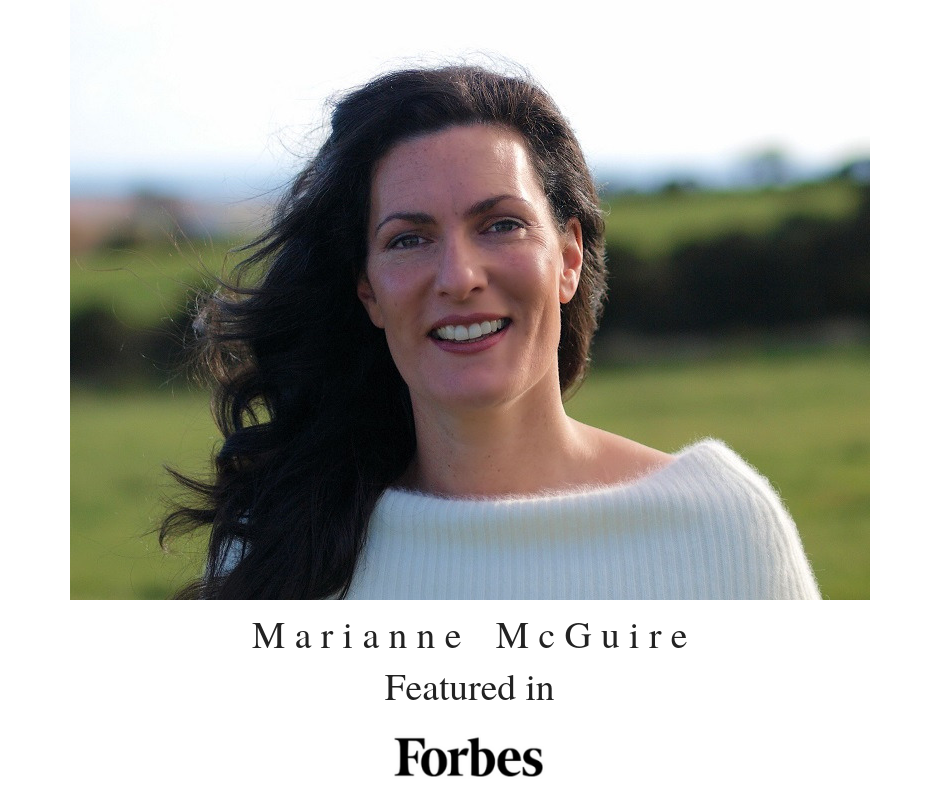 What People Are Saying
"Marianne has had more of an impact on my life than anyone else. This program is a miracle. I'm picky and I've done all of the big name programs but this one, it's unique. She brings such lightness to it all and makes it fun! She is so loving and encouraging. I actually feel at peace now in my life whereas before, I felt anxious and I felt that something was missing from my life. There are no words to explain how I feel now, peace, joy, love, I feel free, I'm living it! I know who I am. I had read about it but now I feel it! Marianne, you have made my life. Thank you."
Jennifer B, United States.
"[…This] quite literally awakened my inner knowing. Her message brought alive experiences in me both past and present that shook me awake and made me realize my calling and gifts. The message she shares lit me up, quieted my mind chatter, and lit the connection between me and my Divine guidance. It has been a soulfully magical experience that is hard for me to put into words… but this is a foundational piece that has brought my focus to the joy and the light. It has awakened my intuition on a whole new level, by bringing my attention to what was always operating inside of me. Embracing these parts of me is leading to an expansion and fulfillment in every area of myself and my life. Thank you Marianne for sharing this gift with me and the world."
AC, United States.
"Marianne has packed this full of inspiration and easy-to-use, life-changing tools. They are a must watch for any woman who wants to stop struggling, discover her life's purpose and start living with ease."
Leanne Mulcahy, New Zealand.
"Marianne is mesmerizing, I get chills when she speaks, I have to stop because there is a shift happening while I'm doing the exercises."
"Marianne's work is deep and very rich, it's boiled down to the essence, simple and very high quality."
"LOVE, kindness, strength, clarity, powerful, FUN are the qualities that come to me when I think of working with Marianne."
"Marianne McGuire has a true vibration. She is clear and true. Her voice carries truth and cuts through the veils of illusion."
"I feel so seen by Marianne, she's genuinely happy and enthusiastic about my breakthroughs. She is so herself, very intuitive and she oozes what she teaches, she deals with it in a light way. She's so present, it's hard to explain, it's unique. It's like she witnesses me in a way no one ever has before. It's very liberating because I feel lighter afterwards."
Please see Terms of Service before purchasing.