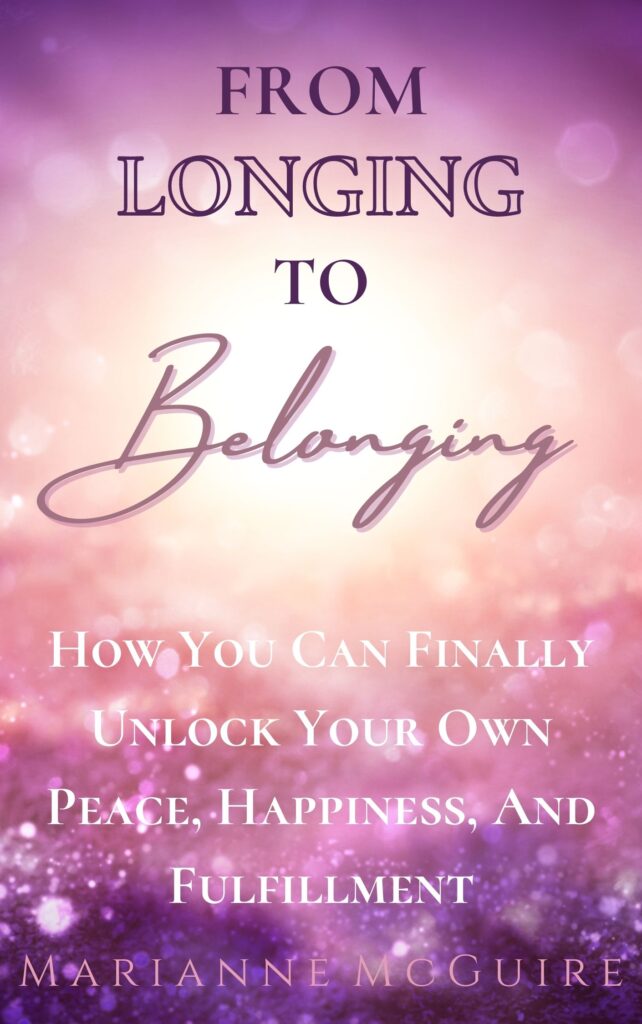 FROM LONGING TO BELONGING
How You Can Finally Unlock Your Own Peace, Happiness, and Fulfillment
IF YOU WANT TO DISCOVER HOW YOU CAN LET GO OF STRESS, ANXIETY, AND LONELINESS, AND FINALLY UNLOCK YOUR OWN PEACE, HAPPINESS, AND FULFILLMENT, THEN KEEP READING…
"This book changed my life. It's deeply inspiring, warm and so informative. I cried and laughed, it was so healing. I feel so much more secure in myself, I don't get anxious or controlling now because I know how to connect with my intuitive guidance for support. I can now see where I was getting stuck. I have a connection to myself that I can't explain in words, something I have been searching for all my adult life. This beautifully written encouraging book has made a HUGE difference in my life."
Marianne McGuire (featured in Forbes) shares her 4 Step Practice in this inspiring book. Imagine having an effective and practical tool you can use to transform stress, sadness, fear, anger, and pain, to integrate it, and continue your everyday life from a space of peace and clarity. This is not as some intellectual concept; you can feel viscerally lighter and freer!
This is for you if you've had enough of swimming against the tide of life – striving to do your best. You've done a lot of work on yourself but you're still feeling unfulfilled and unsupported, you don't feel seen or heard. You can feel lonely and anxious, like you don't belong; sad and disappointed because you don't feel the connection you long for, even though you know it's available…
Some Possible RESULTS:
➤Be sovereign in your life. No more leaking your power, knowing there's something better for you, but being unable to find a way to experience the clearing and connection you long for.
➤Make space for you to be who you really are, to feel present, to feel Presence itself.
➤Your intuition can become clearer; you can feel so supported, relieved, free, and joyful because of this connection!
➤End procrastination, so you can feel contentment.
➤You need never feel lonely again; you can finally be yourself.
➤Know what you really want because you are clearing the energy that covers your true desires.
➤Feel supported by life, connected to the source of creativity, and experience self-acceptance.
➤Your health can improve because the state of flight or fight can be reduced, and your nervous system can relax more. You can experience fewer problems, more fulfilling relationships, and the beauty of being; a shift from head to heart so you feel that you that truly belong.
➤You can finally come home to yourself.
In This Book You Will DISCOVER:
➤How you can benefit from Marianne's decades of experience and FINALLY let go and live the life you know that you are supposed to live, without feeling in the grip of anxiety, stress, doubt, or fear. (The feeling of bliss when you realize that you don't need to hold it all together yourself; you allow yourself to be supported by life and you can let go, relax and BE!)
➤A simple and profound way to end the build-up of stress and anxiety, the constant sense of unease in the background, tension, or heavy emotions, etc.
➤The main reason for emotional suffering.
➤An effective and powerful way to eliminate irritating mind chatter, finally!
➤Feel encouraged and empowered as Marianne explains the main reason why you're feeling blocked or stuck.
➤How to let go of loneliness and longing and feel the connection of true belonging.
➤Discover the practical and comforting way to tap into your powerful intuitive guidance so that you can be guided and feel supported in your life.
➤The real cause of procrastination.
➤The 4 Step Practice you can use to become lighter so that you can start to live your life from peace, creativity, love, and joy!
"This book is absolutely extraordinary… it needs to be shouted from the rooftops. Truly. It was so effortless. I am EXCITED about life again!"
The paperback and ebook versions of the book are available at Amazon.com
The Audiobook version is available in all good Audiobook Stores, including:
Or you can order the Audiobook from your local library!
---
Some Reviews: